Xin Chào from Hồ Chí Minh City,
Who would want to live in a city? This is from Linda, possibly oblivious to the fact that most people do. She's looking out over the rooftops where the monsoon storm is brewing, lighting up the layered sky, and the neon lights are punctuating the skyline in every direction.
We are enjoying a desultory dinner on the roof of the 7-storey hotel, surrounded by potted tropical plants, and vaguely aware of remote street sounds down below, and sipping on a chilly white wine. Slow food in a fast city.
We are not exactly holed up, here, suffering inconvenience or deprivation. We stumbled across a gem of a hotel, where the business model resembles nothing of the dog-eat-dog American model, but a new and refreshing alternative way to do business. In all previous epistles, I've never written specifically about a particular business. This stay at Christina's calls out for a break of the mould.
Vietnamese hem gems
Christina's Hotel is in a back lane: in Vietnamese parlance a hem. This place is what the English-speaking locals might call a 'hem gem'. The entrance is a courtyard giving straight onto the street, under some big shady trees.
When one enters the building, the homely lobby and smiling faces beckon one in, for a closer look. The tables in the ground floor café have cards, games, musical instruments, books and puzzles. The chairs are comfortable and multifarious. The café has all the charming features of Vietnamese hospitality, along with a few modern touches.
"a little kid, full of arrogance"
Mr. Thủ is founder and co-owner. He spent 18 formative years in USA, but he's a quick learner. He's not here to teach the backward Asians how to run a business the American way. He's here for the very opposite. Thủ encapsulates this by likening the typical Western attitude to "a little kid, full of arrogance, unable to think of anything in a holistic way". In contrast, he says, the East can see that traditions are there for a sound reason: "to better our lives".
Miss Vi is taking orders behind the counter but that's not how she sees it. This is not a place where anyone gives orders. She is taking palpable pride in serving her fellow humans, helping to make their lives better. She works here because the enterprise's philosophy coincides with hers viz. everybody looks after everybody else. Her raison d'être is the same as the hotel's and the hotel's raison d'être is the same as hers. Mr Thủ says the ethos is to "welcome you into our homes". And there's no single-use plastic anywhere on the premises.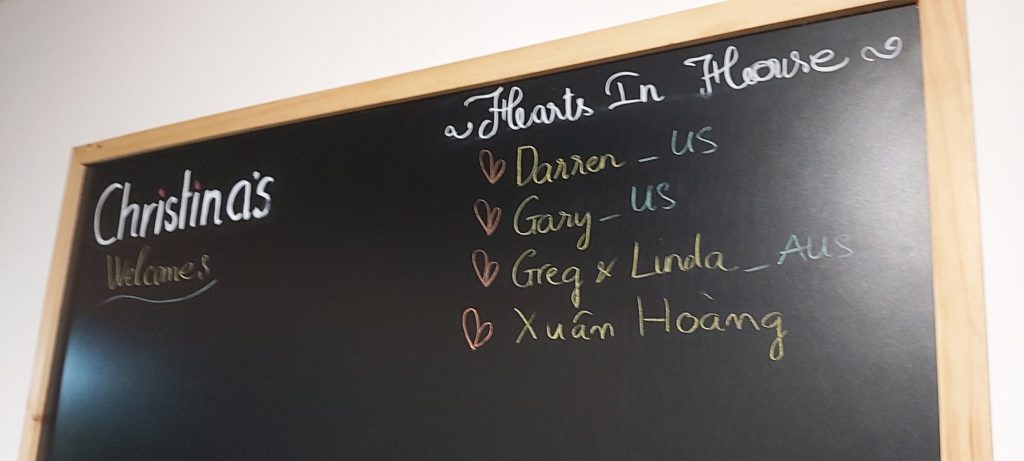 Miss Trúc says she works here because of the shared values. "I love Việt Nam so much," she says. "We do everything [at the hotel] with love." She adds, "I really don't care about the money. Everyone here just loves the culture." This is partly because the staff have been given (given, not sold) some equity in the business and partly because they are granted autonomy over their roles. Mr. Thủ says this "allows them all to be themselves". It's a prudent business practice that: grant women some autonomy over their jobs.
a refreshing business model
This is the business model to supersede the prevailing but seriously flawed American one. Building a business on marketing is as false as the "Have a nice day" entreaty.
Like Linda, I've avoided residing permanently in metropolises all my life. But, up here on the roof I can see the appeal of living in a bustling city, especially this one, which doesn't bustle so much as hum. That hum is the sound of the motorbike: not the incessant, grinding cog of uncaring commerce but the rhythm of a community looking after each other. It makes living in the tar and cement that much more than tolerable.
Hẹn gặp lại from Việt Nam,
Greg
Other photos from hereabouts